CIS-CAT Pro Dashboard v1.1.12 Offers Scalable Report Removal
4 min read
Original Post from Center for Internet Security
Author: kimberly.kane
The CIS team continues to deliver improvements and new features for CIS SecureSuite Members. This month we're sharing updates to CIS-CAT Pro Dashboard and Assessor. In Dashboard, you can now easily delete desired multiple reports to make results more accurate over time. Assessor offers a new JSON report output as well as coverage for eight new or update CIS Benchmarks.
Easy Configuration Assessment Report Removal
Using CIS-CAT Pro Dashboard is a great way to visualize assessment results. Users can configure CIS-CAT Pro Assessor to automatically send reports to CIS-CAT Pro Dashboard to view assessment results. Getting started with CIS Benchmark adoption often involves an analysis period. During the analysis phase, reports may be imported, but users may not desire to store results for a long period of time. We've added an easier way to select multiple reports and remove them from the CIS-CAT Pro Dashboard's database. This, in turn, will remove report scores from overall averages displayed in the graphical dashboard views.
We've added a two-step process which enables a full configuration report delete process to occur outside of business hours to ensure optimal Dashboard performance. The first step will allow users with an admin role to manually select or flag reports for deletion in the "Assessment Results Screen." The second step will occur during user-configured hours specified in settings and will purge the "flagged" reports from the database. Read on for a detailed explanation on how to get started with this new feature.
Select Reports for Deletion
Navigate to "Assessment Results Search" in the "Reports" menu.

Enter desired criteria, and click "Search." The "Delete Report" button is available to Dashboard users with an admin role. View the reports by selecting "View."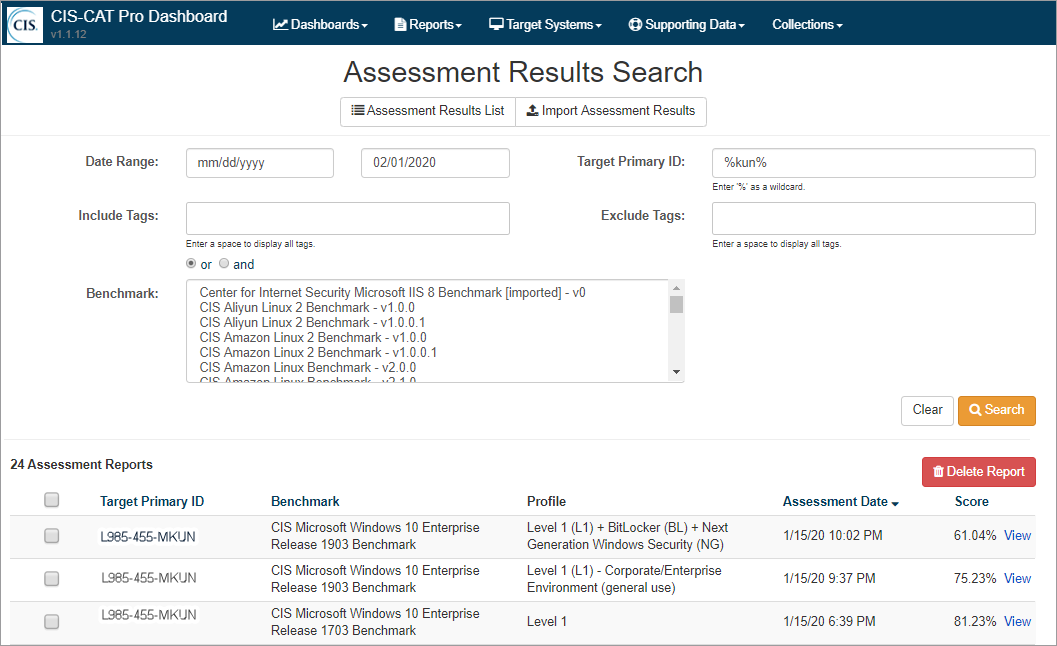 Select the reports desired for removal from the database using the checkbox to the left of each report and select the "Delete Report" button. Confirm the delete by selecting "Delete" once more.

It's important to configure the settings in the "Systems Settings." This can be accomplished by users with an admin role. Permanent deletion of flagged report(s) will start and end daily at the time specified. Both the start and end time must be set with whole integers ranging from 0 to 23. A setting of any other value in either setting, such as -1, will disable the job.
We highly recommend that every Dashboard is configured with a routine database backup process as the deletion process is permanent.
Highlighted Recent Features for CIS-CAT Pro Assessor
CIS has also recently released updates to CIS-CAT Pro Assessor. Want to be alerted more quickly when there's a new release? Read about how to integrate CIS-CAT Pro Dashboard with CIS WorkBench.
Additional and Updated Automated CIS Benchmarks Coverage
CIS Benchmark automated assessment content that is new or updated in 2020 is available in the latest version of CIS-CAT Pro Assessor:
CIS Debian Linux 10 Benchmark
CIS Fedora 28 Family Linux Benchmark
CIS Kubernetes Benchmark
CIS Microsoft SQL Server 2019 Benchmark
CIS Microsoft Windows 10 Enterprise 1903 Benchmark
CIS Microsoft Windows 10 Enterprise 1909 Benchmark
CIS Microsoft Windows Server 2019 Benchmark
CIS MongoDB 3.6 Benchmark
New JSON Format Report Output
Available in CIS-CAT Pro Assessor v4.0.19, use the latest report JSON format option in your business processes. For Members that have reporting needs outside or in addition to use of CIS-CAT Pro Dashboard, an alternative output format supporting configuration assessments has been added. Use the –npr option to produce a JSON format report consisting of only recommendations that have failed per assessment.
Collaborating with the CIS-CAT Pro Community
CIS appreciates our volunteers, partners, and CIS SecureSuite Members who work together to improve configuration security for everyone. By providing feedback on best practices, testing new software builds, and sharing expertise, our communities are continuously helping us to improve and grow.
Interested in sharing your endpoint configuration challenges with a CIS-CAT Pro team member? Want to contribute to our design of new functionality, or test a new feature? We love hearing real-world experiences and challenges! Reach out to us at cis-cat@cisecurity.org. It makes a real difference.
Get started with the new versions today
CIS SecureSuite Members can download the latest updates to CIS-CAT Pro Dashboard by logging in to CIS WorkBench. Don't forget to check the CIS-CAT Pro Dashboard Change Log and CIS-CAT Pro Assessor v4 Change Log for a complete listing of all changes!
The post CIS-CAT Pro Dashboard v1.1.12 Offers Scalable Report Removal appeared first on CIS.

Go to Source
Author: kimberly.kane